Sometime in 1973, The King's Road, London
Here we look back to the very beginning of Autograph, in fact in our very first year of trading, 1973.
Our first project, oddly, had nothing at all to do with theatre but quite a lot to do with sound design, even in its most nascent form. Andrew takes up the story:
"It was, and still is, a restaurant called The Jam in the Kings Road.  Although I see it has been 'refurbished' recently, the split-level design of pine tables built on scaffolding is exactly the same as I remember.  
Phil Clifford had left the ROH first (on the flip of a coin) to get the Autograph ball rolling whilst I moved up into his post and moonlighted doing the metalwork in their workshops to keep him supplied.  He was installing the wiring and equipment as the restaurant was being built and I would join him at night after the opera / ballet had come down. I remember spending several happy nights in there with my soldering iron terminating the wiring before going back to my day job at the ROH the next morning."
Now here's the thing that makes this story really remarkable – not only is the restaurant still there, but so is the sound system as installed fifty years ago!
"Notice the date on the website home page (HERE) and the individual volume controls for each table (see image below), still a feature after 50-odd years… first suggested and introduced by those clever Autograph Sound designers!  All restaurants should have such things!"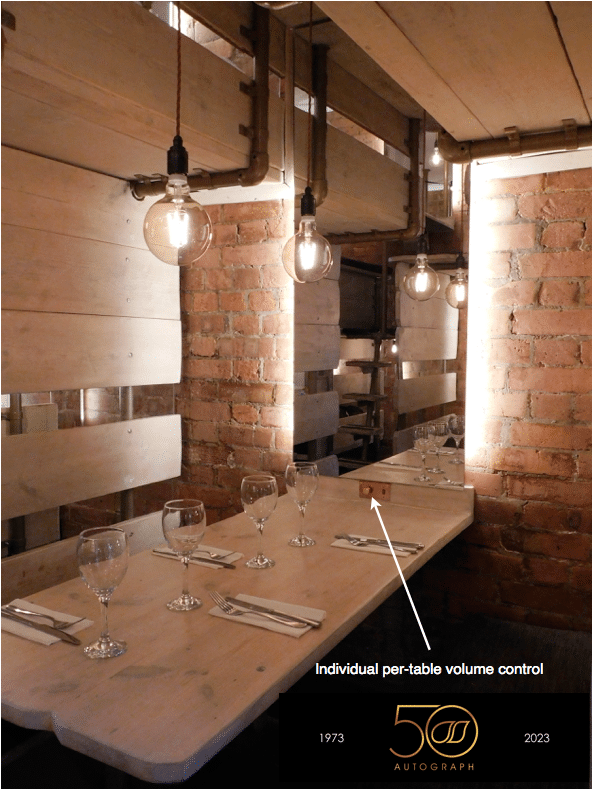 ***